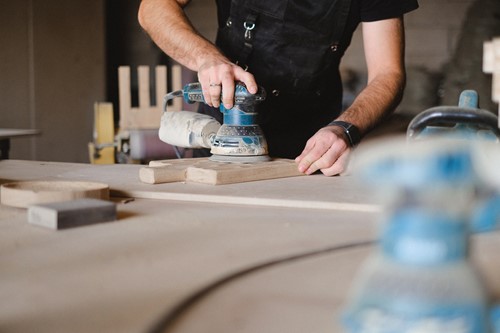 Wooden pegboard shelving units are a simple and cost-effective DIY storage solution. Extremely versatile and durable, pegboard shelving is perfect for anything from tool storage to jewelry organization and is one of the easier DIY storage ideas. If you're interested in making a custom pegboard shelving unit, here is a guide to help:
DIY Pegboard tools & materials
The size of your pegboard is completely up to preference and how much storage space you need. If you plan to use your pegboard for office supplies or personal accessories, consider using a smaller base and thinner pegs.
¾ inch plywood for the base
½ inch plywood pieces for shelves
Wooden dowels for pegs
Wood screws
Drill
Drum sander
Hand sander
Measuring tape
Pencil
Step-by-step guide
The first step to this DIY storage project is to carefully sand the entire piece of plywood for the base.
Once the base plywood is smooth, use your measuring tape to measure where the peg holes will go. It's helpful to make a paper template to mark each peg hole if you prefer not to mark the plywood directly.
Following your marked spacing, drill holes with a ¾ inch bit.
Use the drum sander to smooth the edges of each peg hole. Be careful not to sand too much, or you might accidentally make the hole too large for the peg to fit tightly.
Cut your wooden dowels to the desired length. For this guide, use six-inch pegs.
Create the shelf boards by cutting the ½ inch plywood into six-inch lengths. You can make the shelves whatever width you prefer. A variety of shelf sizes makes for a versatile and aesthetically pleasing pegboard.
Sand all the shelf pieces to avoid splinters and splitting.
Drill the base of the pegboard to the wall using large wood screws.
With the pegboard base secured, it's time to add the pegs and shelves. Arrange them however best fits your storage purposes.
Pegboards are an excellent example of DIY storage. By making a custom pegboard of your own, you can save space and stay organized.